Upcoming Events

Brenna Lynn Opening for Post Road at Twinsburg's Rock the Park
Friday July 14th, 2017
Doors: 6:30
Brenna: 7:00
Post Road: 8:15
Admission is $10 and can be bought online or at the show

Twinsburg's Rock the Park concert series is a large event that pulls hundreds from the surrounding areas. Brenna will be opening for Post Road, a country band from Cleveland that has won multiple awards for their sound and shows. Saturday, July 14th is Country Night, so grab your cowboy boots and come out to see Cleveland's best country cover band and Cleveland's favorite singer-songwriter (this night with a country twang).

Brenna Lynn at Beachcliff Tavern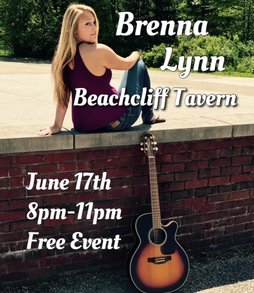 Saturday June 17th, 2017
Showtime 8pm-11pm
Free Admission

Come see Brenna play originals, covers, and loops at the Beachcliff Tavern in Rocky River. With delicious drinks, awesome food, and great music, you're bound to have a great time.
---
Brenna Lynn at the International Women's Day Festival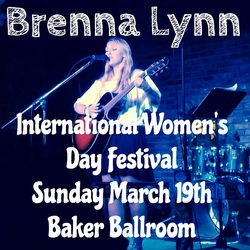 Sunday, March 19th, 2017
Baker Ballroom
Event: 1pm-6pm
Brenna plays at 4:55
Free admission

Come to Baker Ballroom to see multiple performances in honor of women all around the world. There will be local vendors, clubs/activities from on campus, free food and info, and a blood drive. Last year was an incredible experience at the festival and you don't want to miss out!
---
Brenna Lynn at Donkey Coffee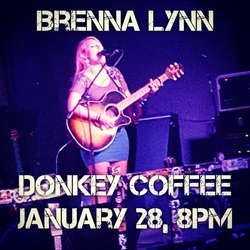 Saturday, January 28th, 2017
Doors at 7:30pm, Show at 8pm
Cover charge: $3

Get a cozy cup of coffee and come listen to Brenna Lynn and Winter Wilson at Donkey Coffee. Brenna will be performing soul-soothing originals, as well as some BRAND NEW covers that she arranged herself on her loop pedal.
---
Brenna Lynn at Acoustic Cafe, Baker Center, September 1st
Brenna Lynn Innocenzi will be performing in Baker Center as a part of the Acoustic Cafe series on Thursday, September 1st at 12:00 noon. Grab a coffee from Front Room and listen to some relaxing acoustic music between your classes.
This event is FREE!
2016
Brenna Lynn at Donkey Coffee August 26th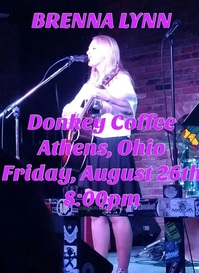 Brenna Lynn will be performing at the best coffee shop in Ohio - Donkey Coffee in Athens, Ohio! It will be a great acoustic show to kick off the new school year. Delicious coffee and tea, amazing live music.

****Easily the BEST date night you can plan in Athens****

ONLY three dollars at the door.

Friday, August 26th, 2016 8:00pm

---
Brenna Lynn at The Map Room in Cleveland
Every Wednesday in July 2016 at 6:30pm
Free show, tips welcome
Brenna Lynn with Kristy Lee Burky and Once Again
July 22, 2016 @ 8pm at The Symposium Night Club in Lakewood, Ohio
Tickets $5 online or $7 at the door!
18 and up only, +$3 if under 21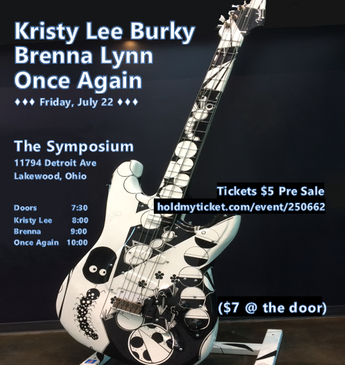 Brenna Lynn at Symposium
Brenna Lynn will be performing at the Symposium Night Club in Lakewood Ohio on June 17 and July 22 2016!

18+ only, $5 at the door!

Get ready for an awesome night of music and delicious drinks at the Symposium!

****Interested in opening for me? Contact me (see Blog page) to reserve your spot!!