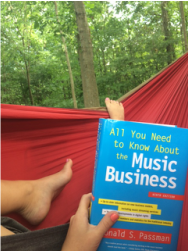 If there's two things I'm addicted to, they're music and learning. I've fallen head over heels in love with this book already and I'm only about 30 pages in!

Donald Passman's book, All You Need to Know about the Music Business 9th Edition, is packed with tips, tricks, steps, and info. Katy Perry said that she "read this book at thirteen and then things turned out okay." Adam Levine said, "If you want to be in music, you have to read this book." The author claims that music lawyers have gotten mad at him for giving advice away that usually costs clients thousands of dollars! Even if I stopped reading now at page 30, it would be worth the thirty bucks I paid for it on Amazon.


Here's what I love about it and why YOU should read it if you want to be in the biz:

1. It's up to date. I almost got an older version to save a buck, but my recording teacher at Tri-C said to go for the newest, because the music business changes fast, especially with the age of the internet. It's worth it to have the 9th edition!

2. It's written in regular human language - it carefully decodes and explains fancy shmancy lawyer talk.

3. It's organized in such a way that you can read the book thoroughly or skip around to get the facts fast if you are short on time.

4. He discusses how to choose which lawyers and managers to go with - this is essential so that you don't get screwed over by a sleezeball.

5. He gives ENDLESS resources! I've already bookmarked multiple website suggestions on my computer. Everything from advertisement sites, to file sharing sites, to music insider sites!

6. He gives an attorney checklist. I love lists!

7. The book includes breakdowns of record deals and deal points.

8. He spells out the intricacies of royalties and copyright and publishing law.

9. TIPS TIPS TIPS on everything! I started making a list of tips on how to get my music heard more and how to get more fans to follow me via social media!

10. And so much more.


This book is definitely worth the read. Educate yourself. Learn. Read. Work. Hustle.

That's what successful people do.