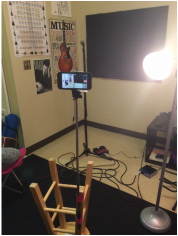 This is getting just plain funny.

I decided I wanted to post my first YouTube cover song. I wanted to make it count. I wanted it to rock. I wanted it to look professional. I did my homework, I know what I needed.

....Unfortunately I've got about 10 dollars to my name.

But hey, has that ever stopped me before?

My boyfriend and I are world-class MacGyver-ers. We rearranged my small dorm room and decorated my corner (now dubbed my "recording corner"). My posters and acoustic foam now coat that section of my wall. We created a lighting source/reflecter like true videographers using an octopus lamp and some blinds. We flipped my stool upside down and duct taped a selfie stick to it to make a tripod for his phone. I used my phone for another angle...unfortunately that tripod collapsed a bit early and only got a different angle for a chunk of the song but hey, there's always some room for improvement.

We rocked it. I'm working on editing my video now and its actually not bad considering what we were working with.

I hope y'all like it...especially since you know what it looked like on the other side of the camera!!!

Lol stay tuned for the video ... it's of the song "Royals" by Lorde.

my favorite quote of the night:
"Um...Brenna...we're gonna need some more duct tape..."